This was a recent Top Ten Tuesday topic, but I wanted to wait until the end of the year in case there was a last minute addition to this list (and there was!) In 2017 I read 69 books, just one (one!) book shy of my goal of 70 books. I read 100 books in 2016 so this was a bit disappointing, but 2017 was certainly a busier year for me in many ways. So, without any further ado…my ten favourite reads of 2017!
Conversations with Friends by Sally Rooney
Having heard so much about this book before reading it, I wasn't sure it would live up to the hype, but it most certainly did. A smart yet emotional read that explores relationships, vulnerability and the need to connect with people.
Tangleweed & Brine by Deirdre Sullivan, illustrated by Karen Vaughan
A collection of 13 dark, witchy fairytale retellings. With a focus on the female body and experience, and diversifying the cast of fairytales, this gives familiar tales a fresh feminist spin. Also, the illustrations and the writing are stunning.
The Hate U Give by Angie Thomas
Starr is caught between two worlds – the poor neighbourhood she was raised in, and the posh high school she attends. When she witnesses the fatal shooting of her unarmed friend Khalil, staying silent is no longer an option. A powerful read, one I cannot recommend highly enough. It is hard to believe such a strong book is a debut.
My Name is Lucy Barton by Elizabeth Strout
A great introduction to a brilliant author, I plan to do more catching up on Elizabeth Strout's backlist this year. A short yet insightful book, more telling in what is left unsaid, about writer Lucy Barton being visited in hospital by her estranged mother.
A Field Guide to Getting Lost by Rebecca Solnit
A stunning collection of essays encompassing music, art, heritage, identity and so much more. A book to savour, and one I have marked many quotes from.
Things A Bright Girl Can Do by Sally Nicholls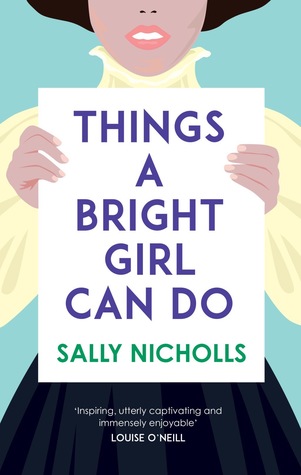 A fiery feminist read about three girls from very different backgrounds, all campaigning for the vote. With memorable and rounded characters and plenty of rich historical detail, this is a very interesting and inspiring read. (This was my Secret Santa gift from a fellow Rick O'Shea Bookclub member, and the late addition to the favourites list)
The Space Between by Meg Grehan
A tender and beautiful love story told in verse. Beth, suffering with severe agoraphobia, decides to spend a year indoors and alone. However, when a dog called Mouse comes nosing at her window, his owner Alice in tow, her plans are changed.
Spellbook of the Lost & Found by Moira Fowley-Doyle
Beguiling magical realism, full of secrets and twists. The writing is beautiful, and the plot compelling. Fans of Fowley-Doyle's debut The Accident Season will love this.
A Line Made by Walking by Sara Baume
I loved Spill Simmer Falter Wither, but I thought A Line Made by Walking was even better. An almost painful read about loneliness, art and identity with photographs taken by the artist protagonist interspersed throughout the book.
The Break by Marian Keyes
I adore Marian Keyes, I only started reading her work a couple of years ago but since have devoured her backlist. Her new novel was the longest book I read this year (576 pages) and I loved it. The family dynamics were my favourite thing about it, and how she manages to make me both laugh and cry when reading her books.
I have set a goal of 70 books again this year, and have just finished my first, Flying Tips for Flightless Birds by Kelly McCaughrain, about a circus family, which made my little heart soar.