Short reviews of some recent reads!
Vivian vs the Apocalypse – Katie Coyle
This book has been on my TBR pile for a long time, I was glad to finally get to it! A gripping YA read set in a version contemporary USA under the power of the fanatical Church of America. I won't say too much about the plot (don't want to give it away!) but this was an exciting read with strong characters, and I am very keen to read the follow up Vivian vs America. A very strong debut, and Vivian Apple is an excellent protagonist.
Wild – Cheryl Strayed
I read this book over Christmas, and felt a bit guilty all snuggled up in blankets and cosy slippers while the author was trekking the Pacific Crest Trail, down to only one hiking boot. This was an utterly gripping and moving read. Strayed is very honest in her writing, and the result is a powerful and uplifting book. While I won't be hiking the PCT any time soon, it made me think a lot about my own life and what I want to do.
History is All You Left Me – Adam Silvera (ARC, will be published in February 2017)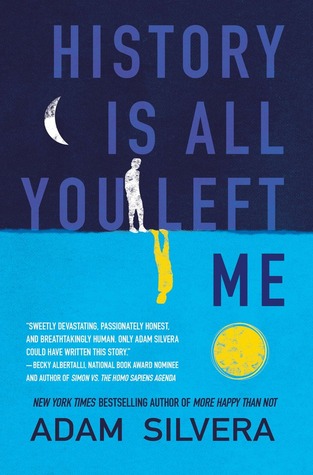 A very moving read about first love, loss and grief. I loved how the book switched between past and present (the shift in person was interesting also). Griff, the protagonist, is mourning his first love and best friend Theo, while also becoming more and more controlled by his compulsions. The mix of romance, grief and friendship was strong, and the depiction of Griffin's struggles with OCD felt very real and honest. I definitely want to read More Happy Than Not this year.
On Beauty – Zadie Smith

After reading Swing Time, I'm keen to discover the rest of Zadie Smith's work. As a former student of art history, I enjoyed the role art played in this book but what I really loved was how Smith gets us into the characters' heads and how she explores their relationships. I've been thinking about it ever since.
Ink – Alice Broadway (ARC, will be published in February 2017)

First of all, how beautiful is this book? The cover is gorgeous and shiny and I was immediately enticed to read it. The book itself is very compelling, and I cannot wait to read the read of the trilogy. It is set in a world in which everyone is 'marked', inked with tattoos cataloguing your life. The idea is that this is a way of creating an honest and good society, but Leora soon comes to see that things are not as black and white as they may seem…
I'm currently reading an ARC of The Hate U Give by Angie Thomas, and it's just as brilliant as I had heard!