Thanks to Harper Teen for inviting me to take part in the Things We Know by Heart Blog Tour and for sending me a copy of the book to review! The full schedule for the blog tour can be seen beneath my review.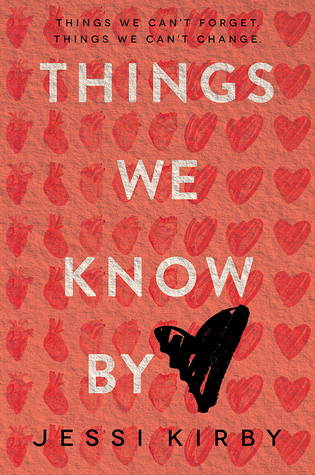 Things We Know by Heart
Jessi Kirby
Harper Teen (2016)
YA Contemporary
Quinn Sullivan lost the love of her life when her boyfriend Trent was killed in an accident. It has been 400 days, and Trent's loss is as painful as ever. She thinks that if she can find the recipient of Trent's donated heart she might find some closure. Recipients of his other organs responded to her letters, but not the boy who received his heart. She only wants to see Colton Thomas; she never intended to meet him, and she certainly never intended to fall for him. But can she ever be with him, when he reminds her so much of her loss?
This is a poignant story about grief and learning to live again. Both Quinn and Colton have their struggles and secrets, and both characters are nuanced and well drawn. Quinn goes on a real journey in this book, learning about herself and learning to love life again.  She embarks on a tentative relationship with Colton, taking it one good day at a time. Their relationship can be summed up by this Emerson quote referenced in the book: 'Write it on your heart that every day is the best day in the year.'Kirby writes places beautifully, the locations Quinn and Colton visit sparkle off the page.
Sunlight streams in through the opening at the mist that hangs in the air aglow, illuminating each tiny water droplet. All around us the water catches the sunlight and throws it against the walls of the cavern, waving and dancing.
The Things We Know by Heart is as much about family as it is about romance. I loved Quinn's outspoken grandmother, and her feisty sister. These secondary characters had stories of their own, and were interesting and believable. The relationships within the family are well developed throughout the book. We how the tragedy has impacted upon the rest of the family, and how they all support each other. However, Kirby also explores how Quinn and Colton need independence from their families, how all the support can become smothering. The family dynamics were my favourite part of the book.
This love story is not a conventional one, and there are some ethical questions around it. However I will not deny that it was very cute, and I was rooting for them. The end was a bit rushed for my liking, but this is certainly an enjoyable summer romance.
I love the cover design by Erin Fitzsimmons, with the pattern of hearts in the background, and the scribbly black loveheart in the title.