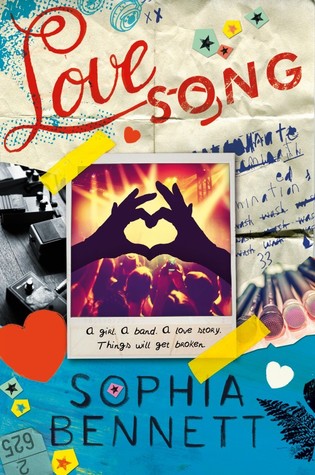 Love Song
Sophia Bennett
Chicken House, April 2016
12+, Contemporary
The Point are the hottest band around, and their catchy songs and moving ballads are number one hits. Nina accompanies her sister Ariel (one of the band's superfans, known as 'Pointer Sisters') to a meet and greet. Through a bizarre twist of fate, Nina winds up with a job as personal assistant to the lead singer's fiancée. On tour with the band, Nina sees their more human side, what lies behind the glamour, and most of all, how the boys' friendship is falling apart.
I loved Sophia Bennett's The Look and was delighted to get the chance to review this book. As in You Don't Know Me, she brings the reader behind the scenes of the music world. Nina is a likeable protagonist, and it is interesting to see how she grows throughout the book. Her relationships with the different band members are nuanced and interesting. I enjoyed how Bennett shows us the different layers each character has. One of my favourite things about this book was Heatherwick Hall. This crumbling old manor is full of character, and made a brilliant setting for the latter part of the book. Equally, the chapter when Nina goes to The Point concert was very atmospheric. I also loved the inclusion of the song lyrics throughout, it added an interesting element to the book and I'd love to hear the songs!
The Look is still my favourite of Sophia Bennett book, I thought the relationship between the sisters was very moving and realistic, but this was definitely an enjoyable read. Fans of Girl Online by Zoe Sugg would enjoy Love Song, The Look or You Don't Know Me.
Originally reviewed for LoveReading4Kids.