Happy St Patrick's Day/Lá Fheile Pádraig! Seeing as it is the 17th of March, here is a parade of 17 excellent books by Irish authors or illustrators published in the last year. The list is mainly children's/YA, and this is only a sample of the wonderful books being produced by Irish writers, illustrators and publishers.
Once upon a Place edited by Eoin Colfer, illustrated by PJ Lynch
A collection of poems and stories by Irish writers, all on the theme of place. With a mix of magical, spooky and moving tales this is the perfect introduction to Irish children's literature, and PJ Lynch's charcoal illustrations are stunning.
Needlework by Deirdre Sullivan
A powerful story about survival, lyrically written. Sullivan tackles difficult material head on and creates a book that is painful yet poetic. Steve McCarthy's cover illustration is just perfect for the book.
One by Sarah Crossan
Don't just take my word for it, this moving verse novel about sisterhood was recently shortlisted for the Children's Books Ireland Awards, the YA Book Prize AND the Carnegie Medal.
Knights of the Borrowed Dark by Dave Rudden
Exciting, witty and spooky this is a brilliant fantasy adventure that fans of Derek Landy, Rick Riordan and J.K. Rowling will love.
Name upon Name by Sheena Wilkinson
A well-researched read that offers a different perspective on the 1916 Rising, and is also a very enjoyable read. The cover design is perfect – not only does it evoke the time, but it shows how Helen is caught between two different identities, two different struggles.
Making It Up As I Go Along by Marian Keyes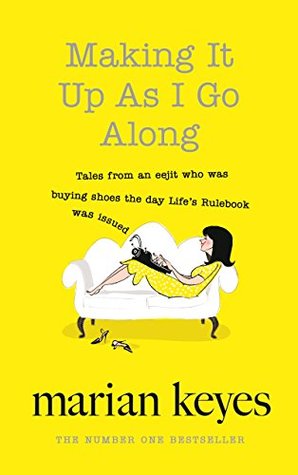 Cover image from Goodreads
This blog mainly covers children's and YA books, but I enjoyed Marian Keyes' latest collection of essays and articles so much that I couldn't not include it. Warm, funny and entertaining, it's a great read.
Asking For It by Louise O'Neill
Winner of an Irish Book Award and recently shortlisted for the Children's Books Ireland awards and the YA Book Prize, this book has been starting vital conversations about rape culture and consent. It is a very difficult read, but also a very important one.
The Boy Who Fell Off the Mayflower by PJ Lynch
I have been a fan of PJ Lynch's illustrations for years, and this is the first book he has written as well as illustrated. The artwork is extraordinary and shows his talent for capturing emotions and panoramic landscapes.
The Wordsmith by Patricia Forde
This dystopian novel is set in a future in which arts and culture are outlawed and language is restricted. The world building is brilliant, and it is particularly relevant when thinking about the Irish language. Also, it has a beautiful cover designed by Steve Simpson.
A Hollow in the Hills by Ruth Frances Long
The sequel to A Crack in Everything, this is a cracking urban fantasy read set in Dublin. There are some brilliant strong female characters, and the plot is absolutely gripping. I love how Long makes familiar monuments magical, and I cannot wait for book 3 in the trilogy.
Dublin Fairytale by Nicola Colton
I loved this version of Little Red Riding Hood set in Dublin, particularly the spread featuring Trinity College of Sorcery! I love Colton's style of illustration, and all the funny details included in the background of the images.
The Book of Learning by ER Murray
The first in the Nine Lives trilogy, this is a great fantasy adventure set between Dublin and West Cork. It was the Dublin Citywide Read this year.
The Butterfly Shell by Maureen White
A quiet and understated read about a young girl coping with the transition to secondary school and the lingering memory of a lost sister. Very beautifully written.
Still Falling by Sheena Wilkinson
I am a big fan of Sheena Wilkinson's work and I thought this was a very powerful read about love, self-worth and dealing with your past.
Demon Road by Derek Landy
A supernatural roadtrip packed with vampires and demons, this is an exciting read that fans of Landy's Skulduggery series will enjoy.
I'm a Girl! by Yasmeen Ismail
A fun picturebook about being yourself with bright and exuberant illustration. A great new talent in the vibrant world of Irish picturebooks!
Irelandopedia by John and Fatti Burke
A beautifully illustrated book featuring a double-page spread about each county in Ireland. Great for anyone aged 6+ who wants more fun facts about our Emerald Isle!
Happy St Patrick's Day, and happy reading!